We are currently updating our resources for this page please bear with us, as more information and resources will become available very soon. If you have questions, comments or suggestions, please contact: natasha.curran@dublindiocese.ie
Table of Page Contents:
Promotional Video on Synod & Synodality
Prayer for the Synod – Adsusmus Prayer
What is the Diocesan Synodal Pathway – Video
Dates & Venues for the listening gatherings in each faith community across the Parish Grouping.
National Synthesis Document
On the 10th October 2021 Pope Francis launched a two year synodal path with a call for us to 'encounter, listen, and discern'. Pope Francis invites the entire Church to reflect on a theme that is decisive for its life and mission. Our "journeying together" is, in fact, what most effectively enacts and manifests the nature of the Church as the pilgrim and missionary People of God. Below is a short video about the Synod what it is, what it is about and how you can become involved. Please click on video below.
Synod Prayer 
What is a Diocesan Synodal Pathway?
You can click here for a short video from Fr Kieran O'Mahoney OSA, explaining what it's all about
Synodal Listening Gatherings

Faith Community

Date

Venue

Ballymount
Tuesday March 1st
Ballymount Church
Barrowhouse
Thursday March 3rd
Barrowhouse Hall
Ballymount
Tuesday March 8th
Ballymount Church
Barrowhouse
Thursday March 10th
Barrowhouse Hall
Moone
Monday March 14th
Moone Hall
Moone
Monday March 21st
Moone Hall
Athy
Tuesday March 22nd
T.B.C.
Crookstown
Wednesday March 23rd
Crookstown School Hall
Kilmead
Monday March 28th
Kilmead School Hall
Athy
Tuesday March 29th
T.B.C.
Crookstown
Wednesday March 30th
Crookstown School Hall
Kilmead
Monday April 4th
 Kilmead School Hall
National Synthesis Document
I'm sure you have seen or heard the coverage in the media this week for the all-Ireland report on the Synod which has now been forwarded to Rome.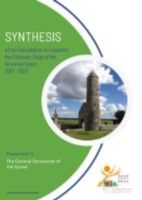 Dr Nicola Brady, chair of the Steering Committee for the Irish Synodal Pathway, said: "The strong sense of shared responsibility that has guided our synodal process so far, from the local to the national level, has been a great encouragement. It is hoped that this will continue to motivate us to develop our skills of deep listening and discernment, as we reflect on the significance of our national synthesis, and the different voices of the church around the world, asking what God wants of us in light of what we have heard."
You can read the full document on our parish website under The Synod tab on the main menu or by using this link if you are viewing the Bulletin online. Please do take time to read and reflect on it's contents.