To our New 

.
Over time we will build up some fun, and interesting stuff here for our younger parishioners. If you have any ideas or suggestions please get in touch, we would love to hear them. You can email them to:
Year of St Joseph
On the December 8th 2020, Pope Francis announced that from then until December 8th 2021 the whole Church, all over the world, would remember and honour St Joseph in a special way. Do you know who St Joseph is? Would you like to know a little bit about him? You can have a look at this short video to learn more about St Joseph.
Would like to do something special for Mary?
Do you think that you could learn this special prayer, if you don't know it already?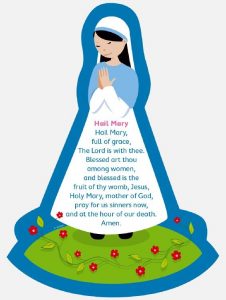 Did you know that May is a special month for Mary the Mother of Jesus, we call her Our Lady. There is a lovely tradition of making a small Altar in your home called a May Altar. All you need is a small table, a shelf or even a window sill. Put a picture or a statue of Our Lady, maybe a Rosary Beads and some flowers. Here are some pictures of May Altars that might give you some ideas.
Don't forget the Golden Rule: NEVER, EVER, EVER, light a candle unless an adult is with you!!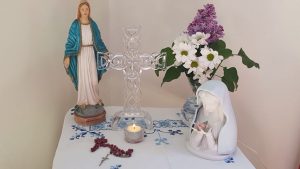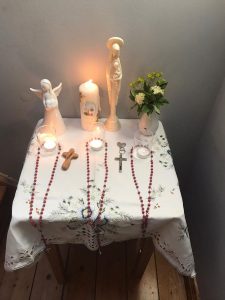 Would you like to have some fun colouring? You can download and print a Rosary Colouring page and a picture of Our Lady Which you can print and colour in. Maybe you can place them in your May Altar.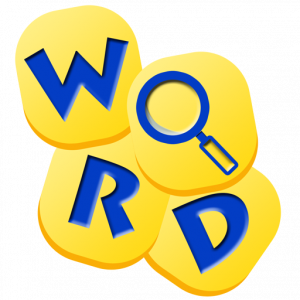 Have some fun solving this Word Search if you can.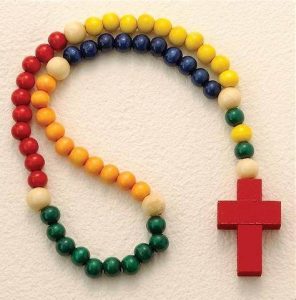 Can you count the number of beads on a Rosary? How many are there?
Here is a real easy Step by Step guide to learning how to pray the Rosary, praying the Rosary as a family is a great way of getting to know all about the life of Jesus, it is like looking at the photos of HIM as He grows up.
When we pray the Rosary it is like we are looking at the pictures of Jesus while holding the hand of HIS mammy!